April 24th, 2017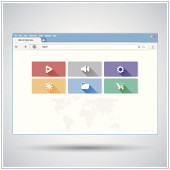 You pay close enough attention to the links you click to avoid clicking on something like goolge.com or evrenote.com...right? Because if you're not, you could end up exposing your computer or smartphone to a host of malware. The newest phishing attack strategy is the worst of all, and can catch even the most astute users off guard.
What are homographs?
There are a lot of ways to disguise a hyperlink, but one strategy has survived for decades -- and it's enjoying a spike in popularity. Referred to as "homographs" by cybersecurity professionals, this phishing strategy revolves around how browsers interpret URLs written in other languages.
Read more.