10 Myths About Moving Your Business to the Cloud
Today, people work in more places than just the office, and they get work done on more devices than their office PC. Office 365 gives businesses the agility they need to help their people be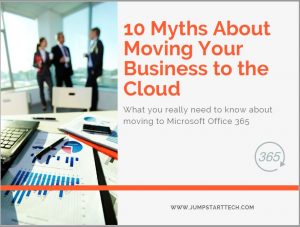 productive wherever they are. But, unfortunately, there are still a lot of myths about working in the cloud. Companies worry about security and privacy. They feel that cloud migration is all or nothing. Sometimes, they don't want to migrate because they think it will be harder to manage.
But the reality is – none of this is actually true. Download our e-book "10 Myths About Moving Your Business to the Cloud" to learn why. We'll give you the straight story on the ten most common myths that may be holding you back, including:
Is on-premises data really safer?
Does cloud migration have to be complicated?
When does email become more than just email?
How can Skype really help my business?
What kind of management does operating in the cloud really entail?
Download your eBook Here.