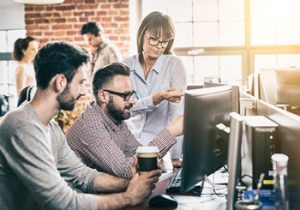 It takes a village to deliver high performing IT capabilities—not just one technology person.
Jump Start Technology's co-managed IT services is the perfect fit for your business if you already have an internal IT department. We don't replace your IT team, we give them a boost with expertise, strategy planning, tools, personnel, and other resources. We'll customize a solution to meet the specific needs of your organization, including:
Network operations center (NOC): 24x7 monitoring of your critical infrastructure, along with the ability to create customized incident response plans.
Service desk: We can provide Tier 1 helpdesk support for your users or be designated as an escalation point for your internal help desk (Tiers 2 and 3).
Patch and asset management: Patch and asset management solutions that can include both remotely administered and on-premise aspects. You can offload some of the more mundane aspects of managing infrastructure and end user computing devices, so your IT team can focus on more strategic initiatives.
Security monitoring and threat protection:  Vulnerability management, security information and event monitoring (SIEM), mobile device management, intrusion detection/prevention, identity management, e-mail security and endpoint protection solutions to protect your IT environment.
Backup and recovery services: State-of-the-art backup and recovery solutions that provide peace of mind in the event of business interruption or catastrophic events.
Cloud computing and Infrastructure as a Service: We offer range of cloud and hosting alternatives to reduce the overhead associated with data center facilities and equipment.
Virtual CIO: We can provide experienced IT leadership as an additional resource to assist your organization in making sound IT investments.
Ready to Get Started? Contact Our Team.
Call us at 650-949-0667 or contact us at info@jumpstarttech.com