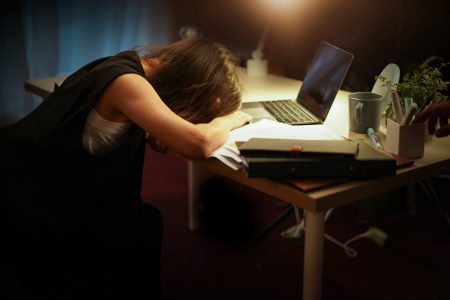 A lot has been made about the newly remote workforce that has been doing their best for nearly a year...or more.
One issue that many ignore is burnout. Sure, it happens in the office too, but there is something unsettling about getting up and going to work walking distance from your bed. Today, we will take a look at at-home worker burnout and give you a few tips to help you keep from suffering the same fate.
What started as a short-term leave from the office has transformed into an entire workforce transition. Remote work has been on the rise, with a peak of 62% of employed US adults working part or full time from the confines of their home. But remote work isn't the only thing that has been on the rise... Burnout is hitting an all-time high. More than two-thirds, or 69%, of employees, are experiencing burnout symptoms while working from home, and this influx is impacting both business productivity as well as the overall health of the workforce.
If you think burnout just means being exhausted from your job, think again… Burnout is known to cause a litany of physical and mental conditions: high blood pressure, heart disease, obesity, a weakened immune system, anxiety, depression, cognitive decline, Alzheimer's disease, and even death.
What Does At-Home Worker Burnout Look Like?
It looks a lot like worker burnout always looked like, except there is no place for the worker to escape to. Let's face it, the COVID-19 pandemic has changed a lot of things for a lot of businesses (and a lot of people for that matter), but nothing has changed as much as asking the same people that have been pleading for the ability to work remotely for years, to now work remotely because it's mandatory. In this case it isn't hypocrisy, but that doesn't stop your staff from viewing it that way.
The number one variable that leads to remote-worker burnout is the sensation that they are working all the time. Each of your employees have a life to live, and some live it differently than others. The ones that are diligent about most of the aspects in their lives can find it maddening to work from home, then work on their house, their car, etc… They feel like they aren't accomplishing anything with their time because they don't have any real downtime to speak of. That leads us to our first tip:
Keep Your Professional Boundaries
If your business has moved its operations remotely, there is a pretty good chance that the hours of operation haven't changed. This means that if you feel like you are working all the time, you have probably let the boundaries that you typically operate under lapse and are doing more work off the clock or outside of work hours. After all, it is simple to check your email at 11 p.m. and get ready for the next day. Just leave the work until regularly scheduled business hours and enjoy your off-hours.
Another variable that is sure to create stress for the remote worker is the inherent distractions that they have while they operate from home. You may have a spouse or live-in significant other also working from home, you may have children that don't have much to do since their school year (and all extra-curricular activities) have been canceled due to the pandemic. You may have pets that need a certain amount of attention. You also may be prone to distracting yourself with social media, streaming videos, or video games. We suggest:
Keep Distractions to a Minimum
This may be easier said than done, but if you can, have a dedicated workspace that is away from all of the distractions listed above. You need focus to do your job proficiently and continuing to distract yourself (or continuing to allow yourself to be distracted) is going to cut down on the time you are actually working. This leads to you getting behind and results in much more stress than you're typically used to dealing with. This can result in you working longer hours to compensate, leaving you with the feeling that you are working all the time.
Finally, when dealing with mental health it can often be a matter of internalizing someone else's expectations of you. Of course, many employers do have a certain amount of expectations, but they are flying by the seat of their pants too. Do you really think they would have crushed your work-from-home dreams for so long if they didn't have legitimate concerns about the effect it would have on their product or service? In this case, they may have been wrong. Expecting you to work from home was the only card they could play in order to fulfill their responsibilities to their consumers, while still taking care of the people they depend on to make business happen. You may find that when this situation is resolved that the work flexibility you've always wanted will remain. You may also find that you won't mind going into the office that much.
Understanding that your employer is doing their best to keep you safe and employed while other small businesses are struggling to re-open, will give you some peace of mind. Here are a couple of tips to help you…
Stave Off Work-At-Home Burnout
Get dressed - A good practice is to get up and do your morning routine as you would. You don't have to wear a suit and tie but get out of your PJs and get yourself ready for work. You may not have the long commute right now, but that time can be spent catching up on sleep, taking the dog for a walk, or some other activities that make you less apt to be scurrying around after work.
Watch your diet and exercise - Stay-at-home orders haven't been great for a lot of people's waistlines, but now that things are starting to slowly re-open there will be more opportunities to get out there and enjoy the things you typically do. You will want to make sure to stretch and move around a bit while also watching your intake. Good diet and exercise help your mental health.
Until there is an available vaccine, this situation isn't close to over. Some companies will reopen and forget they ever had a remote workforce, but many businesses will prioritize the mental and physical health of their employees and keep remote work open until there is a reason to stop it; and, your ability to keep your head screwed on straight will be a big determining factor in the use of remote work in the future.
If we can assist you in managing your remote workforce technology, reach out anytime.