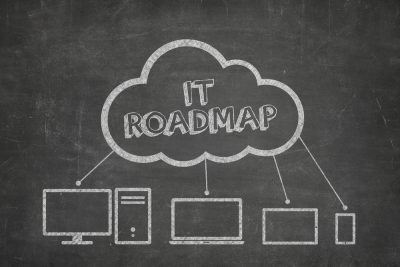 A technology roadmap is a key asset to use when planning your business for the near future. IT is volatile and demands that you always think ahead, so if you want to make sure technology doesn't become a major pain point for your organization, it's best to start thinking ahead. We're here to help you get started thinking about how your business technology should change and adapt over the course of 2019.
First, we'll give you a brief overview of what you should expect when putting together an IT roadmap. You'll want to focus on how much growth you anticipate, as well as how technology can influence or augment this growth. Another important aspect to consider is the resources your business currently has versus how much you will need in the future to achieve your goals. Finally, think about what kind of risks are associated with how much growth you are planning for, as well as how you can minimize the chances of this affecting your organization as time passes.
Projected Growth and Technology
Over time, your business will grow, whether it's onboarding new clients or hiring more staff to make sure operations progress smoothly. You should have a plan for how much you expect to grow over the next year, so you can make sure technology solutions can adapt to this number as needed. For example, if you suspect that you'll onboard 10 new employees next year, you should begin to make preparations now so as to minimize the growing pains later. Bandwidth deficiencies due to unexpected growth can floor your network and access speeds, making this a particularly important aspect to consider.
Resource Planning for the Future
The same consideration should be shown for your clients. If you onboard too many clients without enough staff or resources to effectively serve them, you're not just doing the customers a disservice--you're harming your own business (and its reputation) in the process. By being forward-thinking about your business' specific needs, you can prevent these kinds of issues from cropping up in the first place.
Review your existing IT systems and tactics
When you plan an IT strategy it's important to remember that you're not starting from scratch. Reviewing your existing IT systems and tactics will help you define problems, see what's working and where resources can best be saved by making use of what is already available.
Risk Factors Associated with Growth
The more users and clients you onboard, the more technology your business is going to use; and the more technology your organization implements, the greater the risk of security issues. It goes without saying that the more endpoints are on your network, the more likely your business is to encounter dangerous situations. Therefore, you should have measures put in place to ensure the integrity of your data storage systems and any endpoints connected to them. This includes mobile devices, which are an aspect of data security that can quickly spiral into a major problem if left unchecked.
Ready to get started planning 2019?   Jump Start Technology can help your business plan for the future with an IT roadmap. To learn more, reach out to us at 650-949-0667.